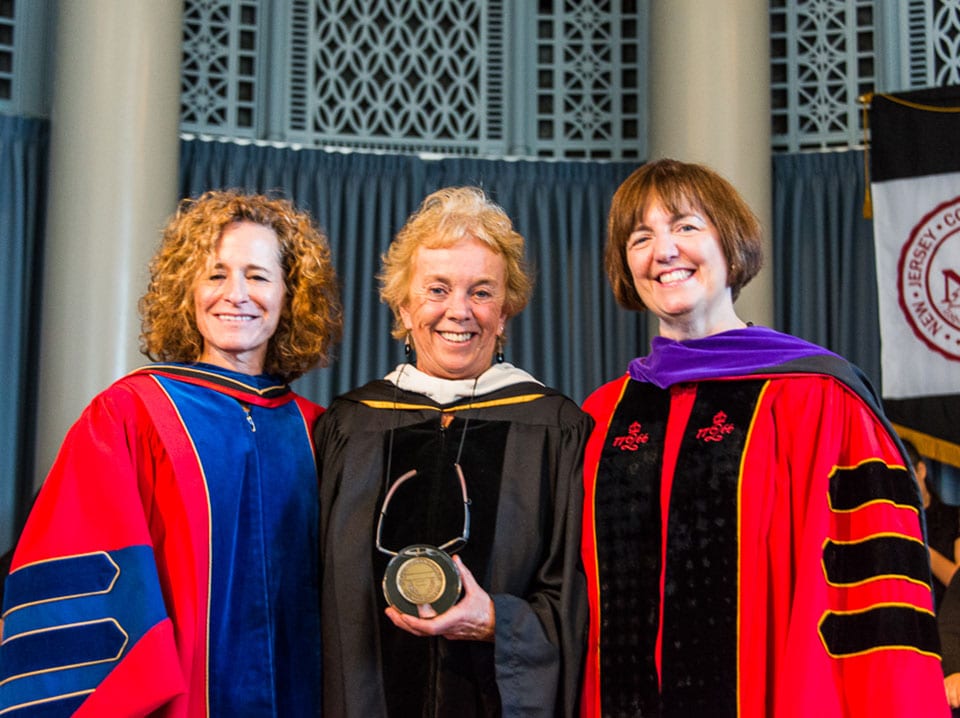 Lifetime Achievement Award from
Douglass College at Rutgers University
Throughout a thirty-five-year career in higher education, Diane LeBow '61, Ph.D., helped create and propel Women's Studies as an academic field. She has the distinction of being a founding member of the National Women's Studies Association, further promoting feminist teaching, research, and service.
Diane also secured her place as a global citizen as a writer and photojournalist traveling the world, focusing on international travel and cultures. Among her work, Diane has written about Afghan women, the Hopi, Amazon people, Tuvans, Mongolians, Corsicans, and Parisians.
In recognition of her accomplishments, Diane was awarded the Lifetime Achievement Award from Douglass College at Rutgers University.
2021
Solas Travelers' Tales Bronze award for "Corsica: A Neolithic Afternoon"
Solas Award Honorable Mention for "Mongolia: Land of Horse People, Possible Amazon Descendents, and Fermented Mares' Milk"
2020
Diane's essay, "An Italian Bedtime Story: Chloroformed, Robbed, and Propositioned on an Italian Train," one of thirty-four out of 1300 selected to be in anthology, Best Women's Travel Writing Vol. 12, Travelers' Tales Publications.
2019
Solas Travelers' Tales Silver award for the story "Song of the Sirens," a tale of adventures in the Greek islands with her frisky 80 year old mom
Solas Award Honorable Mentions: for "Crumbs in an Egyptian Bedroom" (an unexpected courtship in Cairo), "Cuba: Machismo and Feminism Together at Last," (changes in Cuba) and "An Italian Bedtime Story" (chloroformed and robbed on an Italian train)
2017
Bay Area Travel Writers' Gold award for "At Home in Afghanistan" Judge: Don George, renowned travel writer and editor (SF Examiner, etc.), wrote: "This brave and evocative story richly captures multiple layers of the author's connection with Afghanistan and especially with Afghan women. The account poignantly illuminates the plight and the potential of Afghan women in a way that brings the reader into the heart of their cause. This is a very moving and inspiring story"
Solas Travelers' Tales' Best Women's Travel Bronze Award for "Dancing on the Wine Dark Sea."
Bay Area Travel Writers' Travel Photography award for photograph, "Essaouira, Morocco" Judge, Robert Holmes, internationally respected travel photographer, wrote: "This photograph beautifully captures the cool, early morning in this seaside town. I love the depth in the image created by the bike in the foreground and the tiny figure in the distance through the arch… A very atmospheric shot."
2015
Solas Travelers' Tales Adventure Travel Bronze award for "Dinner in Dushanbe, Tajikistan." Meeting with several hundred Afghan women exiles on the border of Afghanistan/Tajikistan, I think I am being kidnapped, but instead end up at an Afghan family dinner.
2011
Solas Silver Award Best Women's Travel 2011 "My Dinner with Terrorists" My birthday celebration high up in the dragon-toothed mountains of Corsica with handsome, rifle-slinging Corsican separatists.
2010
Solas Gold Award Best Women's Travel Writing 2010. "Tea in Kabul" Adventures in Afghanistan including my friendship with an Afghan mujahedeen and his family.
Travelers' Tales Solas Awards "Why I Don't Stay Home" (how my single traveler path began)
2007
Solas Award Gold Best Love Story on the Road "The Trout Baron" Story of my eight year love affair with a French Baron from Brittany and why I decided not to marry him and move into his chateau.
2006
BATW Bronze Award Internet Travel "A Visit to Palau"
2005
Bay Area Travel Writers' Photography Silver award "Afghan Woman in Window─Faces of the World exhibition at San Francisco World Affairs Council. Multiple photos selected for exhibit.

Awarded grants from the Ford Foundation and the National Endowment for the Humanities.