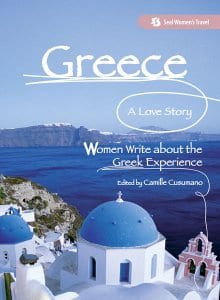 "Dancing on the Wine Dark Sea"
Awarded Bronze "Best Essay in an Anthology" by Bay Area Travel Writers
My darling Aphrodite, I love you. Will you marry me? The handsome Greek restaurant owner on Santorini pleaded with my eighty-year-old mother as they line-danced to bouzouki music in a late-night bacchanal on a terrace overlooking the Aegean. My mother loved dancing, charming men, and living in general. After being widowed for the second time in her late seventies, she kicked up her heels and, in many ways, relished life to its fullest. During those years we traveled together frequently and had our own high-spirited odyssey around Greece...